Earlier this week, the Court of Appeal in Salehi v Surfside III Condominium Owners Association decided in favor of an association where an owner filed a lawsuit containing ten claims against an association and on the eve of trial dismissed eight of those claims.
$250,000 in Legal Fees. Ms. Salehi sued her association alleging it had failed to maintain the common areas, failed to maintain an adequate reserve fund, and failed to disclose maintenance and financial problems. The association spent approximately $250,000 defending against her claims. Three days before trial, Salehi dismissed eight of her ten claims. The association subsequently sought recovery of the legal fees it incurred defending against Salehi's dismissed causes of action.
Before Litigating. The trial court denied the association's request but the court of appeal reversed. The appellate court found that the association was entitled to recover attorneys fees from Salehi, reasoning that a party suing to enforce the CC&Rs must get their "ducks in a row" both procedurally and substantively before filing suit. Since Salehi had done neither, she did not prevail on a "practical level" and the matter was sent back to the trial court for a determination and award of reasonable attorney fees to the association. To read the case in its entirety, see Salehi v Surfside III.
ANNUAL MEETING
DEFAMATION

Stealing Money? Another case decided earlier this year involved alleged defamation during an election campaign. Prior board president Veronica Cabrera accused board member Mohammed Alam (who was running for reelection) of mismanagement of the association's finances. In response, Alam accused Cabrera (who was campaigning for Alam's opponent) of defrauding the association and stealing money. Cabrera sued for defamation. Alam filed an anti-SLAPP motion which was denied. The Court of Appeal reversed.
Public Forum. The court held that HOA meetings constitute a "public forum" and the statements against her were an issue of interest to the membership. Moreover, Cabrera was a "public figure" in her association because she had voluntarily injected herself into the election. Because she was a public figure, a higher standard of proof was applied to the alleged defamation, i.e., Cabrera had to show that Alam made the statements knowing they were false and that he made them with malice. The court found that Cabrera failed to produce any evidence to meet that standard. Accordingly, her claim for defamation was dismissed. Cabrera v. Alam.
RECALL PETITION
DEFAMATION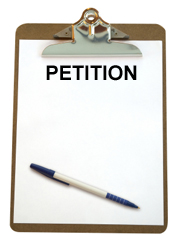 This case also involved alleged defamation, conflicts of interest and a petition to recall the board.
Balcony Maintenance. The association's newly elected board hired a new manager and new legal counsel. The board asked for a legal opinion about maintenance and repair of balconies and shingle siding. The attorney determined that the association was responsible, not individual owners. This was inconsistent with the HOA's prior practice and benefited board members with balconies.
Conflict of Interest. Homeowner Susan Ivie objected to the new interpretation because not all units had balconies, the HOA had no reserves to pay these new expenses, and board members had a conflict of interest because they benefited from the legal opinion. Ivie circulated a petition to recall the new board and was sued. The court granted Ivie's anti-SLAPP motion dismissing the case. The board appealed. The Court of Appeal found that Ms. Ivie's conduct in criticizing the board's actions was protected. Country Side Villa HOA v. Ivie.
This case involved a 1987 Mitsubishi van which was inoperable and did not move from Yan Sui's parking space from 2003 to 2007. In December 2006, the HOA amended its rules to prohibit all disabled, inoperable vehicles. In January 2007, the board president placed a warning sticker on the windshield notifying Sui that his vehicle was in violation and would be towed. In February the van was towed.
Throw in Kitchen Sink. Sui sued for trespass, intentional infliction of emotional distress, violation of due process, conversion, discrimination, libel, fraud, and breach of contract. The only thing he left out was an ADA claim for reasonable accommodation because the vehicle was disabled. The association demurred and the court sustained it without leave to amend, thereby ending the lawsuit. Sui appealed.
Just Like a Pet. Among the arguments made by Sui was that his children had a "strong bond" with the van–it was part of their family, "just like a pet." The court was not persuaded. It found nothing unreasonable about prohibiting disabled vehicles and the "association was perfectly reasonable in prohibiting this unsightly intrusion upon the aesthetics of their common interest development." See Sui v. Price.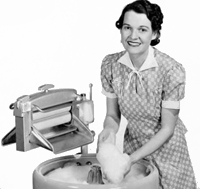 Washer/Dryer #1. Thanks for the picture of the washer, we had one when I was a kid. -Margaret H.

Washer/Dryer #2. Great coverage of the issues. Even further, new complexes often have floor drains for mechanical failures or backups so water does not flood into adjacent units. To convert a complex raises the insurance premiums of the master policy. We looked into this, to meet Code was costly. -Joseph L.
Washer/Dryer #3. I think you meant "if the developer did not design the building to include washers and dryers" in your answer. -Amy T.
RESPONSE: Yes I did. The "not" fell out during the rinse cycle.
Washer/Dryer #4. Our HOA was built without washers and dryers 40 years ago. My wife was adamant about installing them so I paid for larger drain lines from the unit above. Dryer venting was direct to the outside. I pushed the idea that anyone could install washers and dryers provided they replaced and up-sized the drain lines and the venting was properly handled including fire protection of the exhaust. I think it is well worth the effort. -Mike G.
Washer/Dryer #5. Thanks for the thoughtful, thorough and interesting piece on "Washers & Dryers" in HOAs. This issue is much more prevalent than most people think. I know of at least two large HOAs where the installation of washers and dryers in select units created two classes of owners because of master water-metering. The vast majority, who must pay via coin-operated machines to do their laundry in a communal laundry room, and the "privileged" few with laundry facilities in their own units, who get to do their laundry "for free." And don't even get me started on the water damage caused by overflowing drains. -Phillip M.
Washer/Dryer #6. Love your responses from questions. On the issue of washers and dryers, we're in a 100-year-old (next year) historic building with 8-inch concrete walls and working around them becomes quite a problem in and of itself. -Don M.
Washer/Dryer #7. Buildings that are not designed for clothes washers often have communal laundry rooms with coin-operated machines for residents to use. Associations rely on the income from those machines to offset utility costs. Owners who install their own washers and dryers deprive the association of income from the communal machines (which raises the cost for everyone else). In addition, I believe residents are apt to use their own machines more frequently and thus increase their use of "free" water. Why should other owners have to bear the increased costs? I would love to have my own washer but my building does not permit such installations. I knew that when I purchased and therefore live by the rules!!!! -Diana S.
Broken Glass. We had a similar situation with bees (Africanized?) in the attic of a home which was clearly the responsibility of the homeowner – who ignored our letter. I advised the board to kill the bees and fight with the homeowners later before a swarm attacked someone. My argument was the HOA had the money to do it now whereas the homeowner may be in financial straits and regardless of potential liability may simply not do anything. -David A.
Small HOAs #1. Your most recent newsletter is the first time I have heard anybody – besides our board – comment on the fact that the legislature totally ignores or refuses to consider the effect some of their laws have on small associations. Even the org of managers doesn't speak up. THANK YOU. Perhaps the message will reverberate. -Arnold R.
Small HOAs #2. Some clarifications on small HOAs; there are 3 exemptions from the reserve study requirements:
Commercial or industrial CIDs. Civ. Code §1373.

Those without common area. Civ. Code §1365.5(h).

If the total replacement costs are less than 50% of the annual gross budget. Civ. Code §1365.5(e).
Example: if the annual gross budget was $75,000, if the HOA could replace all of its major common area components for less than $37,500 they would not be required to have a reserve study, as outlined in §1365, et al. A number of small HOA's may fall under that exemption. This, of course, was its purpose. -Scott Clements, Reserve Studies Inc.
Speed Bumps. Cars were speeding down our private street, which had young children who played on it. I suggested that speed bumps be installed to slow cars down. We have over 400 units in our complex with a huge monthly budget and the cost for the speed bumps was only $300. The board denied my request. One of the board members stated that the board is insured for one million dollars so if anyone is injured or killed by a speeder and the board is sued for lack of action, they were covered. So why spend the money? -Marc S.
RESPONSE: I would hate to defend that statement to a jury. The attitude of "what do we care if someone gets killed, we have insurance" would likely result in punitive damages against the directors. Juries like to punish defendants who have a reckless disregard for public safety. Since punitive damages are not covered by insurance, your penny-pinching director could be paying out of his own pocket.