QUESTION:
Can a board make owners use one company for cable/TV/phone, negotiate a contract (and rack up legal fees for review), and then add those costs to dues? Doesn't each owner have the option of who should provide them with those services? And if the board can negotiate a contract for the entire project, doesn't it have to go to a vote of the membership?
ANSWER: It depends on your governing documents. If they grant the authority to do so, your board can enter into bulk cable agreements without membership approval. Absent any authorizing language, however, the board must take it to a vote of the membership. This issue was litigated last year in Pennsylvania. The board of the River Park House OA entered into a contract with Comcast which required all residents to pay for cable so the entire association could obtain a substantial discount on the service fees. One of the members argued that (i) cable television was a luxury not a necessity, (ii) not everyone used the service and (iii) the board lacked authority to contract for the service. He refused to pay for the service and the association sued.
Proper Authority? The association argued that it had the best interest of its residents in mind when it contracted for the bulk rate. The court, however, was more interested in whether the association had the authority to do it. The court examined the association's governing documents and found language authorizing the board to incur expenses related to "operations, health, maintenance and safety decisions." The justices determined that cable television did not fit into any of those four categories. Although the board acted in good faith, it acted outside the scope of its authority and the court ruled against the association. (River Park House Owners Association v. Crumley 47 A.3d 870 (Pa. App. 2012).)
Necessity? One of the appellate judges dissented. He felt that "[i]n today's real estate world, cable television and internet services are as much of a condominium necessity as general landscaping services and, therefore, the Council acted properly in levying the cable television minimum fees."
COMMENT. I believe the result would be the same if bulk cable agreements were litigated here–a board would need authority either from the governing documents or by a vote of the membership before contracting for the service.
QUESTION: CC&Rs almost always state that only a member of the association can serve on the board of directors. However, I know of situations where board members have legal counsel draw up "power of attorney" documents that give a friend or family member the right to sit on the board, attend meetings, etc. Is that allowed?
ANSWER: No, it is not allowed. Directors cannot send anyone to attend board meetings and vote in their place–power of attorney or not. The Corporations Code is quite clear on this point:
"No director may vote at any meeting by proxy." (Corp. Code §7211(c).)
Just as Nancy Pelosi cannot send a proxy to the House of Representatives in Washington D.C. to vote in her place, a director's duty to personally attend board meetings and vote is nondelegable, i.e., it cannot be delegated or assigned to others. Doing so is incompatible with the deliberative nature of board meetings and a director's fiduciary duty of due diligence. (Robert's Rules, 11th ed., pp. 428-429.) If a director cannot attend a board meeting, he/she can attend electronically.
ETHICS FEEDBACK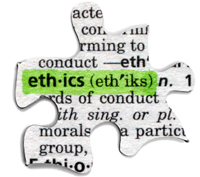 Ethics Pledge #1. You seem to make a difference between an ethics policy and an ethics pledge. Aren't they the same? -Robert J.

RESPONSE: An ethics policy, which I recommend, provides guidelines for how directors, committee members and managers should deal with situations involving conflicts of interest. An ethics pledge (the subject of last week's newsletter) takes it a step further and requires directors to either sign or verbally pledge to follow the association's ethics policy. One large association I represent has newly elected directors raise their right hand and take an oath of office before they can be seated. That is not the norm, most associations simply adopt an ethics policy.
Ethics Pledge #2. If we adopt an ethics policy now, won't owners think we were acting improperly in the past? -Marilyn B.
RESPONSE: Ideally, they would applaud the board for establishing standards of conduct. But you're right, no good deed goes unpunished and some will think the worst.
Ethics Pledge #3. My view of signing an ethics pledge or even having one is that it's ridiculous. If you're ethical you will be just that, signing or not, and if you're not it doesn't matter what you sign. -Gary S.
RESPONSE: I'm sure many will agree with you. Butin my experience, some directors are "ethically challenged" not because they are bad people but because their parents didn't take time to teach them the difference between right and wrong. It used to be we could count on our schools to fill that gap but not any more–they have enough trouble teaching kids how to read and write. Adopting an ethics policy helps directors know what they can and cannot do. They readily embrace the guidelines once they know what they are.
Ethics Pledge #4. Your article on an ethics pledge sparked some controversy in our association. Our board has rejected the concept of an ethics pledge as being extraneous and non-essential. Why in the world would a board member want to sign an ethics pledge in the first place? Any disciplinary action or legal action against a board member or the board as a whole is fully set forth in the bylaws. An ethics pledge gives no additional benefit to the membership–in my opinion. -R.B.
RESPONSE: Waiting for bad things to happen and then taking legal or disciplinary action is one way of handling ethics–wait until it breaks and then fix it. I prefer to avoid the problem altogether (if possible) by establishing ethics guidelines. It's like flossing your teeth–it is not mandatory but it is a good practice.
Ethics Pledge #5. It's funny how a code of ethics has become a hot topic all of a sudden. Is it just me, or does the fact that somebody refuses to sign a document stating they will abide by ethical behavior a slap in the face to every single person who put them into office? -Vicki M.
RESPONSE: I'm not sure I agree. Everyone who votes for their candidate for U.S. President seems pretty happy when they see him take the oath of office. HOA boards can, but don't need to, take an ethics pledge. At a minimum, they should adopt an ethics policy.
BALLOT FEEDBACK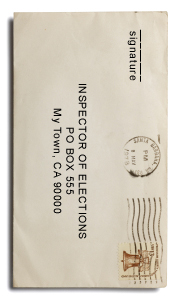 Handling Ballots #1. [On the issue of sending ballots to the management office to be held for the Inspector of Elections] Perhaps the real question is who has access to ballots? In our condo complex, members drop ballots into the mail slot in the onsite office door. Yet some believe that ballot tampering occurred in two ways:
1.  An onsite manager who was defrauding the HOA was rigging elections to prevent the election of directors he knew would ask too many questions.
2.  A director who was seeking re-election and had a key to the office "disappeared" the ballots of neighbors whom he believed had voted against him. -David S.
Handling Ballots #2. There is a problem with locked ballot boxes. If an owner casts two ballots, you won't know which one was the first (and therefore the valid) ballot. We date stamp all envelopes when they come into our office. This can't be done with a locked ballot box unless your front desk person, if there is one, date stamps all of the envelopes before they are inserted into the box. -Sue N.
Handling Ballots #3. I think the question was about handling the ballots, not opening them. We have the president of our association, who thinks he walks on water, up for re-election to the board sorting through the ballots before the election to see who voted and who didn't. He walked into the office and took the ballot box into another office where the accountant was working and made his list. He did this twice. I this legal? -Sue T.
RESPONSE: Only one guy ever walked on water and he didn't get re-elected; he got a crown of thorns. If your president wants to avoid a similar fate, he needs to avoid the appearance of impropriety. No board member should be going through ballot envelopes–especially not behind closed doors.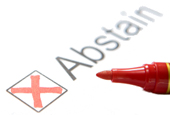 Abstentions: I can think of another instance when a board member should abstain from voting, and that is when they have no personal knowledge of the issue upon which they are voting. The example that first comes to mind is voting to approve meeting minutes when the member did not attend the subject meeting. Is this not the proper action for a board member in that situation? -Jerry F.

RESPONSE: That is a good example of when to abstain.


Adrian J. Adams, Esq.
Adams Kessler PLC

"Legal solutions through knowledge, insight and experience." Our lawyers are friendly; if your association needs legal counsel, contact us at (800) 464-2817 or info@adamskessler.com.