QUESTION:  I serve on the board of a townhome association. We have a potential buyer of a unit that is a limited liability company. If the LLC becomes an owner and the LLC has 50 members, will all 50 members have rights to use the common area facilities?
ANSWER: Good question. Because of the uncertainty and to avoid potential litigation over the issue, we address it when we restate CC&Rs and bylaws for our clients. We define who does and does not hold voting and common area usage rights for (i) those who merely hold a security interest in the property, (ii) tenants, (iii) trusts, (iv) corporations, (v) partnerships, and (vi) other ownership entities. Doing so eliminates the problem. Your association should consider doing the same. If you have questions, contact us.
NOTICE OF
RULE CHANGE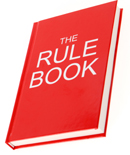 QUESTION: We are changing several rules. May we send only the rules that are changing to homeowners? Our manager says we must send out all the rules for the 30-day homeowner comment period, not just the ones being changed or added. I do not read Civil Code 1357.130 that way. Who is correct?
ANSWER: You're correct. The statute only speaks to proposed changes not the entire package.
The board of directors shall provide written notice of a proposed rule change to the members at least 30 days before making the rule change. The notice shall include the text of the proposed rule change and a description of the purpose and effect of the proposed rule change. (Civ. Code 1357.130(a).)
Once the rule change has been approved by the board, notice of the approval must be given to the membership before the change can take effect. Ideally, changes are incorporated into the rule book and a full set is mailed or delivered to the membership. For some associations that can be quite costly. An alternative is to mail the changes to the membership and post a full set of revised rules on the association's website.
MORE ON
ABSTENTIONS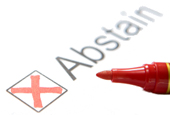 In recent newsletters I've discussed director abstentions. The issue generated follow-up questions because of the confusion people have about this issue. James H. Stewart, PRP, also known as "Mister Parliamentarian" was kind enough to offer a further explanation.
Non-Vote. People get confused because Robert's Rules and the law differ. An abstention is NOT A VOTE, IT DOES NOT COUNT-EVER. It is not a protest vote, it is not a negative vote, it does not "go with" any side. An abstention simply means that the person is not casting a vote on a motion (the reason why does not normally matter).
Under Robert's Rules, abstentions are not counted or even taken (asked for) in normal circumstances. The only time abstentions are recorded is if a roll-call vote is taken. It is good practice to record an abstention in the minutes if the reason for the abstention is a conflict of interest, otherwise it should not be recorded. There is no "right" to have a director's abstention recorded, as that would give a privilege not given to other directors.
Corporations Code. Under Robert's Rules, votes are normally taken as the number present and voting, which means that abstentions are not counted and do not matter. Confusion occursbecause the Corporations Code has a requirement that a board must have the affirmative vote of a majority of those present to adopt a motion. (Corp. Code §7211(a)(8).) While an abstention does not count, in that scenario it has the same affect on the outcome as a negative vote. For example:
Present and Voting: 10 present, 5 yes votes, 4 no votes, 1 abstention = motion passes as a majority of the votes cast are yes (9 votes cast, 5 yes, 4 no).

Majority of Those Present: 10 present, 5 yes votes, 4 no votes, 1 abstention = motion fails, as a majority of those present is 6.
FEEDBACK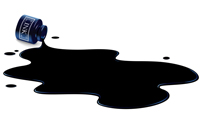 Clubhouse Wi-Fi: Even if the board has authority to install Wi-Fi in the clubhouse, are there any potential problems? -Irene M.
RESPONSE: Yes. If the association installs an "open" or unsecure Wi-Fi system, there are risks. First, anyone can piggyback onto the wireless signal to commit crimes. A hacker can access other users' passwords, bank accounts, emails, etc. Or they can use it to download child porn (which will bring federal agents knocking).
If an association intends to set up Wi-Fi in the clubhouse, it should be careful to set up a secure network with appropriate firewalls and use restrictions. For more information, read security tips from the U.S. government's "Computer Emergency Readiness Team" on wireless technology. The association should also add a disclaimer and a "terms of use" page to the sign-in process where users agree to hold the association harmless.
City Ordinances. You wrote that because HOAs and local governments each have their own jurisdictions and enforcement powers, they operate independently and the ordinances of one do not void the rules of the other. Already, owners are asking me how can this be, as they reference city anti-smoking ordinances. In SF, the ordinance is no smoking in internal common areas of condos/apartments. These owners say, based on your explanation of an HOA lifting leash rule, we could lift our own anti-smoking rule despite the city ordinance. Is there a distinction between some ordinances which are basic such as leashes vs Health & Safety codes? -Joseph L.
RESPONSE: Some people struggle with the concept of overlapping jurisdictions; they think that if the association doesn't adopt city ordinances, the association is somehow breaking the law. Boards enforce HOA rules and cities enforce their own ordinances. Unless the ordinance states otherwise (see mobilehome laws below), an association is not obligated nor is it authorized to be the enforcement arm of the city. If an owner violates the city's anti-smoking ordinance, someone notifies the city and the city orders the person to cease violating its ordinance. If the association's CC&Rs have a provision that any violation of a local ordinance is deemed a violation of the nuisance provision of the CC&Rs then the association can go after the person, but it does so as a violation of the CC&Rs not as a violation of the ordinance.
Mobilehomes. If an HOA is a mobilehome park, the park is under the jurisdiction of the Department of Housing and Community Development. HCD's health and safety regulations do not permit free-roaming pets in mobile home parks, including cats, although I bet few mobilehome parks observe that portion of the regulation. In my experience, HCD will levy fines against the mobilehome park as well as the individual depending upon the violation. -Shelly D.
RESPONSE: You are correct. Mobilehome parks, in addition to the Davis-Stirling Act, fall under "Mobilehome Residency" laws. As such, mobilehome park operators are required to inspect their parks for loose domestic animals. "Dogs or other domestic animals, and cats (domestic and feral) shall not roam at large (free) in the park. Lots and park areas are to be maintained reasonably clean of domestic animal waste." (Mobilehome Park Inspection Operator Information Booklet, p. 6, ¶ 5.) The requirement is based on Title 25. Housing And Community Development, Mobilehome Parks and Installations Regulations §1114.
Rewarding. I think it's very rewarding being on the board, not thankless at all. To think you have the trust of your fellow homeowners to make careful decisions for them is a reward in itself. I wish more good people would get involved. I personally love it! -Mary J.
RESPONSE: If I could clone you, I could make a fortune renting you out to HOA boards around the state.


Adrian J. Adams, Esq.
Adams Kessler PLC

"Legal solutions through knowledge, insight and experience." Our lawyers are friendly; if your association needs legal counsel, contact us at (800) 464-2817 or info@adamskessler.com.