QUESTION: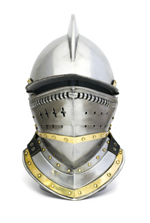 In about 5% of my associations, recruiting a quorum of board members is no longer possible. A Berkeley professor who lived in one of my HOAs suggested a lottery in which members would be drafted to serve as a director. He said it was done in medieval times in Italian city-states where every male citizen was subject to being drafted to sit on the city council. Do you have any thoughts on this?
ANSWER: Women might object to the "every male citizen" part but it may come to that. With the legislature annually increasing the burden on associations, it becomes ever more difficult to find volunteers to serve on boards. Your solution sounds plausible if your bylaws are amended to require it (and the HOA throws in a free helmet). I am curious to know if it's been tried by any HOAs in the United States. Perhaps some of our readers will know the answer.
CONTINUING PROBLEMS WITH
FHA CERTIFICATION
Every time I mention the current administration by name, I get swamped with emails from readers who love him and those who don't. So as to avoid any controversy, I will be more circumspect. Readers should be aware that the administration of "You Know Who" or "He Who Must Not Be Named" continues to mishandle issues involving FHA certifications for condominium projects.
Negative Impact. This is having a significant negative impact on an already damaged housing industry. Attached is an article from the St. Petersburg Times describing why so few associations can get certified and the potential legal jeopardy it creates for boards of directors. Boards can be subjected to penalties up to $1 million and 30 years imprisonment if the certifications they submit are found to be incorrect.
ASSIGNMENT OF RENTS
QUESTION: One of our owners, who rents out his unit, is $6,500 behind in paying HOA dues. We were told we could require the delinquent owner's tenant to pay his rent to the association rather than to the owner. Our property manager says that this is theoretically possible but it should be avoided because it would unduly expose us to a risk of lawsuit, given that our CC&Rs do not contain an explicit "assignment of rents" clause. Is this correct?
ANSWER: Your manager is correct. I don't want to step on any toes but your board should be getting its legal advice from an attorney not a manager. Boards who rely on managers for legal counsel create unnecessary risk for the manager and the board. Directors could lose the benefits of the Business Judgment Rule in the event they were sued.
CC&R Provision. Our firm routinely includes an assignment of rents provision in the CC&Rs we restate for associations. We have successfully used it to collect rent from delinquent owners (with renters) and we have successfully defended it in court. As with anything the board does, there is a risk of litigation. Amending your CC&Rs lowers (but does not eliminate) the risk of litigation and increases the likelihood of prevailing in the event you go to court. If you decide to amend your CC&Rs, make sure the provision is drafted by an experienced HOA attorney–there needs to be specific language in the provision.

MORE FEEDBACK
RE BOARD EMAILS

Board Emails #1.
I personally love the new law eliminating discussion between board members, in our community it gets out of hand with so many emails going back and forth and so many decisions being made via email. -Debbie S.
Board Emails #2. Don't we need to apply just a tad of common sense to this issue? Surely, it's OK to discuss and handle routine business matters by email. -Jim S.
Board Emails #3. It seems that most HOA boards operate in accordance with the law and in a positive manner towards their members. It is the few who want to skirt the laws and take advantage of their members that cause restrictive laws to be passed by the Legislature. -E.C.

Board Emails #4. If a board is worried about delegating too much authority to the president, they can form an Executive Committee (Corp. Code §7212) with two or more directors, but less than the entire board, to handle issues between board meetings. The board should carefully craft the purpose and authority of the Committee so it can do what is intended and not run amok. -Richard Neuland, Esq.
FURTHER ANALYSIS
Emails between directors are not entirely precluded by the amended Open Meeting Act.
Minority of Directors. The amended Act allows for fewer than a majority of directors to discuss or comment on an item of business so long as the email exchange does not become a "series" of emails involving a majority of the board.
Majority of Directors. A majority of directors can also email each other, provided their emails do not involve an "item of business." The amended Act defines "meeting" as:
A congregation of a majority of the members of the board at the same time and place to hear, discuss, or deliberate upon any item of business that is within the authority of the board. (Civil Code §1363.05(k)(2)(A))
An "item of business" is then defined to mean:
any action within the authority of the board, except those actions that the board has validly delegated to any other person or persons, managing agent, officer of the association, or committee of the board comprising less than a majority of the directors. (Civil Code §1363.05(k)(1), emphasis added.)
To be an "item of business" the matter must be an "action" within the authority of the board. Use of the word "action" twice in the amendment suggests that the purpose of the communication must be to propose an action or consider taking an action. If the necessity of this nexus between the communication and a possible or proposed plan of action is correct, then a majority of directors can exchange emails without violating the Open Meeting Act, depending on the exchange.
For example, a majority of directors can discuss the implications of the changes in the Davis-Stirling Act or talk about the deteriorating quality of food at the clubhouse restaurant without violating the communication constraints imposed by amended Civil Code §1363.05. These kinds of discussions are not at the level of an item of business and no action is being proposed.
Thank you to Curtis C. Sproul, Esq. of Sproul Trost LLP for his input on this aspect of the amended Open Meeting Act.

Congratulations on the well deserved award. I enjoy reading your newsletter–it is well formatted and visually appealing. -Joe G.
Congratulations on receiving the Silver Award for the Davis-Stirling website. In my opinion the decision of the International Academy of Visual Arts and W³ Awards to select you as the recipient merely confirms what has clearly been your place as the premier website for information about homeowner associations in California. I view your selection as one that enhances the credibility and importance of the actual award. -Bond S.
Congrats on the honors. They are well deserved! -Jim
RESPONSE: Thank you to these and the many others who sent a congratulatory note. This past week we added Android tablets to the list of mobile devices (iPhones, iPads, Blackberries and Android phones). We will add more devices as the marketplace shakes out winners and losers in the mobile device wars. I will announce them as we add them.