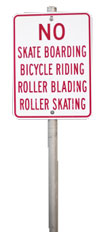 QUESTION: We have a problem with children riding bikes, skateboards, scooters, etc. down a steep hill to a blind intersection. The streets are owned and maintained by the association and the board would like to restrict the street to automobiles only. How can they do this and how would they enforce it?

ANSWER: Unless your governing documents state otherwise, your board has the authority to restrict your street to vehicles only. Doing so benefits the association by reducing or eliminating potential injuries and litigation. If the board were to do nothing and someone is seriously injured, the likelihood is high that the association would be sued. At a minimum, plaintiffs would argue that the directors were negligent and in breach of their fiduciary duties because they knew of the dangerous condition and did nothing to correct it. It may be possible to defeat such claims (depending on the circumstances) but everyone would have to suffer through expensive and emotional litigation before that occurred. They could also lose.
Enforcement. Once the restrictions were adopted, enforcement would be through hearings, fines and suspension of privileges. The board does not need to hire someone to stand on the corner and write tickets but it could do so if circumstances justify it. Typically, rules enforcement for most associations relies on information from residents and periodic inspections. In your case, when someone reports a violation, the board would notify the parents of the young scofflaws, hold hearings and, if appropriate, impose penalties.
RECOMMENDATION: Your board should work with legal counsel to adopt and publish rules regarding the unsafe street–ones that do not discriminate against children. In addition, the board should talk to counsel about posting signs on the street.
COMMERCIAL
AND INDUSTRIAL
CIDs
The California Law Revision Commission released its recommendations regarding revision of laws affecting commercial and industrial common interest developments. The Commission is soliciting public comments which will be considered by the Commission and become part of the public record. Anyone involved with commercial CIDs should review the attached report and submit their comments no later than April 28, 2011 to California Law Revision Commission, 4000 Middlefield Road, Room D-2, Palo Alto, CA 94303.
ANSWERING
MEMBERS' QUESTIONS
QUESTION: Our board frequently refuses to answer questions at open meetings. What can we do?
ANSWER: One of the curious aspects of the Open Meeting Act is its limitation on the board's ability to answer questions. As provided for in Civil Code §1363.05(i)(2), the board (or its managing agent or other agent of the board or a member of the staff) may not discuss any item not on the meeting agenda except to:
briefly respond to statements made or questions; and to

ask a question for clarification, make a brief announcement, or make a brief report on his or her own activities, whether in response to questions posed by a member of the association or based upon his or her own initiative.
Answering Questions. Unless questions from the audience are harassing in nature or involve confidential information, boards should provide brief informational responses during Open Forum. For example, Q: "When are the trees scheduled to be trimmed?" A: "Crews are scheduled to start work next Tuesday at 9:00 a.m." After Open Forum has closed, members have the right to observe the board's conduct of the association's business but they do not have a right to interrupt with questions or comments.
PLEDGE OF ALLEGIANCE
QUESTION: During executive session I was bullied and verbally attacked because I do not say the Pledge of Allegiance before each HOA open meeting. Since it was done during executive session does this exchange have to stay behind closed doors?
ANSWER: It is common for many organizations (including HOAs) to recite the Pledge of Allegiance at the start of their meetings. It's fairly routine and noncontroversial:
I pledge allegiance to the flag of the United States of America, and to the republic for which it stands, one nation under God, indivisible, with liberty and justice for all.
Right to Protest. Directors and owners alike have the right to make political statements against the United States or against the words "under God" (or whatever it is they want to protest) by refusing to recite the pledge. By the same token, your fellow directors have the right to express their displeasure with your political protest. I was not there to see their actions so I can't comment on whether they bullied you or you overreacted to their free speech right to criticize you. In any event, both sides have an obligation to be civil.
No Confidentiality. The incident you describe is not one of the five categories protected by executive session confidentiality. Accordingly, if you decide to escalate the dispute by taking it to the membership, you have that right. Keep in mind that your fellow directors have the same right to counter with their own comments about your behavior. I don't see how that benefits either side. You will never be happy reciting the Pledge of Allegiance and they will never be happy with your refusal. The association would be better served if both sides agreed to disagree and everyone focused on the business of the association.