I received a lot of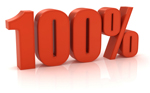 inquires about last week's feedback concerning Bank of America's refusal to lend money to buyers of units in the reader's association. The BofA representative told him the bank would only lend in HOAs with reserves that were 100% funded. The rep also said that 25% of HOAs were 100% funded.
To find out if BofA's numbers were accurate I turned to Robert Nordlund, President of Association Reserves, Inc., for information about reserve funding in the industry. His company compiled data from over 7,000 recently completed reserve studies to create a profile of HOA reserve funding strength. He found that no matter how he sliced the data (large vs small, urban vs suburban, highrise vs townhome, new vs old), the results came out the same as depicted in the graph below.
It turns out that BofA's estimate that 25% of HOAs are fully funded is close to accurate. Although only 5% of HOAs fell into the 90-100% funding range, another ~17% were funded in ranges up to 200%.
News reports about home loans make it clear that the Federal Housing Administration and many banks are still wandering in the desert. The pendulum has swung from completely irresponsible lending practices that brought on the housing crash to practices that are now hampering the recovery by being overly restrictive.
RECOMMENDATION: It should be no surprise that healthy reserves increase property values and improve sales. To comply with the Davis-Stirling Act, boards need to have a reserve study done every three years with annual updates in between. Associations should use experienced companies to prepare their studies, including a reserve funding plan. To improve marketability in their HOAs, boards should then make every effort to raise their reserve funding levels as quickly as possible. In addition, they should fully disclose the condition of their reserves.
Thank you to Robert Nordlund of Association Reserves, Inc. for the above information and use of his graph.
DISSOLVING AN HOA


QUESTION: In four years our association will vote to either keep it or dissolve. The community is split so it will certainly be heated. The board says it is impossible to dissolve it. Answers are hard to come by.
ANSWER: Most homeowners associations are incorporated as Nonprofit Mutual Benefit Corporations under California's Corporations Code. To find out what type of corporation your association is, check your Articles of Incorporation. As provided for in Corporations Code §8724, any owners association for a planned development, condominium, stock cooperative or community apartment project of five or more units that is responsible for managing, maintaining, preserving or controlling any lot, unit or other area cannot be dissolved unless 100% of the members consent.


Your association's articles, bylaws and CC&Rs may also establish limits and procedures on dissolution. The Corporations Code establishes additional procedures for dissolving all corporations, such as electing to wind up and dissolve, adopting a plan of dissolution, and filing a certificate of dissolution with the California Secretary of State. Final federal and state tax returns must also be filed.
As a practical matter, it may be impossible to dissolve an association if no entity can be found to take over the association's maintenance responsibilities. Any association considering dissolution or reorganization should do so with the advice of legal counsel and tax counsel.
Many thanks to Helene Fransz, our subdivision law specialist, for the answer to this question. Helene works with developers to create associations and, from time to time, is called upon to merge associations, divide associations, and dissolve them. -Adrian Adams
FEEDBACK


New CC&Rs. Our association, after much hard work, was able to get passed new and updated CC&Rs and Bylaws. We had two "town hall" meetings, a phone tree to answer questions and to get out the vote, mailings, newsletter articles, and a long list of former board members who endorsed the new governing documents. We were able to say goodbye to our 1970 era documents. -Kathy P.